Even though it's been a year since my husband has worked at the UH ROTC Battalion, we attended their year end Dining Out event last weekend at the Hale Koa Hotel. Once again I was completely inspired by this group of self assured, dedicated, young cadets who are on their way to being the future leadership in the U.S. Military. Hooah.
Besides the fine young officers who will soon be commissioned and a year of hard work for all of the cadre and cadets combined, this was a particularly poignant celebration. It marks the end of an auspicious 23 year military career for LTC Rodney F. Laszlow. This spring he finishes his four year tenure at UH Manoa as Professor of Military Science and begins the benefits of a well earned retirement.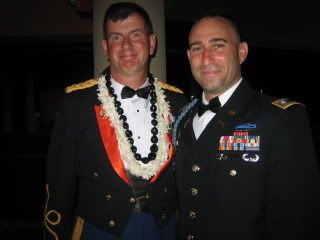 Major General Robert G. F. Lee (the Adjutant General for the State of Hawaii) and the cadets themselves each took a moment to honor LTC Laszlow. I am always inspired to see a career close with honor and distinction. It makes all the hard work and dedication seem so worth it. I can only imagine that it is great inspiration for the cadets as well.
Another unique aspect of the evening was the attendance of UH ROTC alumni from 1957 to the present. From what I understand, the Dining Out event was the culmination of a week of activities for the esteemed guests in conjunction with the cadets. UH ROTC has graduated an impressive roster of military leadership.
The rest of the evening followed the usual pattern of ceremony and entertainment and speeches, all imbued with the spirit and excitement of young adults on the cusp of great careers filled with professional growth, opportunity and adventure.
It was envigorating. And the food was good too!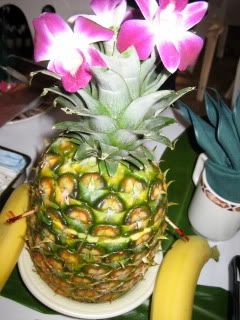 "Ikaika Imua" Go Forward With Strength.
Posted in
1
|
Comments Off